Speed Test Sites/Results
SpeedTest.Net | TestMy.Net | Comparitech | Cox.Net | Speedof.me | Netflix
Here's a collection of various speedtests around the internet.
I am currently using an Cisco Cisco DPQ3212 DOCSIS 3.0 EMTA, a DOCSIS 3.0 modem, being used with Cox HighSpeed Internet and Digital Voice phone service. I'm on their premiere package which just got upgraded (March 2016) to 150 Mbps download and 10 Mbps upload.
DSLReports.com
SpeedTest.Net
TestMy.Net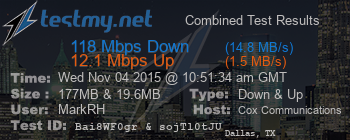 Comparitech
Comparitech Speedtest for Charity. Doesn't seem to save results but is another alternative for a good cause.
Cox.Net
This is from Cox's internal speedtest:
Speedof.me
Netflix
---
Page last modified: Sunday, November 4, 2018 5:31:22 PM CST